Sara Berman, a graduate of the UCLA School of Law, is a legal education thought leader and nationally recognized expert in student success and the bar exam.  Berman is a distance learning pioneer and has served several times as an ABA fact finder for hybrid JD program variance applications. Berman is a former professor and senior law school administrator who currently serves as the Director of Academic and Bar Success Programs at the nonprofit AccessLex Institute's Center for Legal Education Excellence in Washington, D.C. where she directs research initiatives and grant funding programs for law schools in student success, academic success, and bar success. Prior to this position, Berman served as the Director of Critical Skills and Academic Support at Nova Southeastern's Shepard Broad School of Law in Fort Lauderdale, Florida, and before that in faculty and senior administration positions in law schools in California.
Berman recently authored Bar Exam Success: A Comprehensive Guide (in print and audio book formats).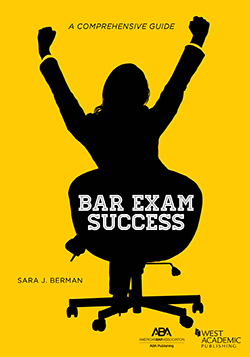 In 2017, Berman authored, Bar Exam MPT Preparation & Experiential Learning For Law Students: Interactive Performance Test Training.
Berman lectured for bar reviews for more than two decades, preparing students for the substantive and skills portions of bar exams nationwide, and authored several books and articles on bar exam and student success, including a widely recognized piece on the use of performance testing in law schools. With UCLA Law Professor Paul Bergman, Berman co-authored "The Criminal Law Handbook: Know Your Rights, Survive the System," and "Represent Yourself in Court: How to Prepare and Try a Winning Case."  These primers on the civil and criminal justice systems, written initially for lay people, help law students develop practical skills necessary for employment readiness and for success on the performance test portion of the bar exam.